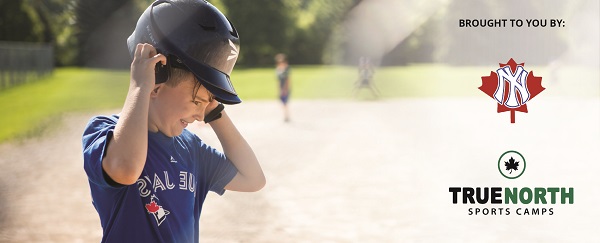 We are very excited to announce that  True North Sports Camps, will once again run a summer baseball camp on behalf of North York Baseball Association for the 2020 season.    

True North will offer both a recreational and elite day camp for boys and girls of all skill levels, ages  7 to 14 years.  Operating Monday to Friday from 8:30 a.m. to 4:00 p.m. (with extended care) at  Bond Park, Truth North Sports Camps will provide a safe and encouraging environment in which young ball players can learn, practice, and compete. Campers will be taught the fundamentals of the sport through a combination of drills, competitions, and games that are designed to both accelerate learning and be fun!
The Elite Camp is an extension of our recreational program for competitive players (Rep or Select level) who are at between 9-14 years old and playing rep ball.  This program focuses on advanced skill development for players committed to taking their games to the next level. Elite Camp operates from weeks 4-9 only.  

SCHEDULE:
| | | | | | | | |
| --- | --- | --- | --- | --- | --- | --- | --- |
| Week # | Dates | Day | Drop Off | Pick Up | Extended Care | Location | Sign Up |
| Week 1 | Jun 29 - July 3 | Mon-Fri | 8:30-9AM | 3:30-4PM | 8AM-5PM | Bond Park | Register |
| Week 2 | July 6-10 | Mon-Fri | 8:30-9AM | 3:30-4PM | 8AM-5PM | Bond Park | Register |
| Week 3 | July 13-17 | Mon-Fri | 8:30-9AM | 3:30-4PM | 8AM-5PM | Bond Park | Register |
| Week 4 | July 20-24 | Mon-Fri | 8:30-9AM | 3:30-4PM | 8AM-5PM | Bond Park | Register |
PRICING, EXTENDED CARE AND OTHER DETAILS:   

Your first registration for a week of summer camp will cost $365.
Notes:
Multi-Week Discounts: We offer Multi-Sibling and Multi-Week discounts. Any additional weeks of camp (whether for the same child or a sibling) will be discounted by $60/week.
Extended Care: Drop your child off as early as 8AM and pick-up between 4PM - 5PM for an additional $75/week per child.
Applicable Taxes : registration fees are subject to 13% HST.
---
---
LOCATION:
Camp is being run out of Bond Park. In case it rains, we have access to the Bond Park Clubhouse. We will run indoor programming the Bond Park Clubhouse that will be baseball-focused when possible, with a goal of continuing to engage campers in a fun and energy filled day!

MORE DETAILS ABOUT CAMP: 
With low camper-to-staff ratios, our outstanding coaches are committed to building an individual rapport with each and every camper. All of our staff members are energetic leaders, who love to share their knowledge of the game while stressing the importance of sportsmanship, teamwork and fair play. Through a combination of fun drills, activities and games, we've created the perfect balance between advanced skill development and having a memorable camp experience!
Below are some of the added features that are a part of each week:
Scouting Reports: At the end of each week, players will receive a personalized Scouting Report detailing their strengths and areas for improvement. Players will be scouted on their hitting, defense and pitching, giving them an opportunity to demonstrate skills and techniques learned throughout the week.
Camper T-Shirts
FUN Fridays
Weekly Tournament
Prizes and Giveaways 
---
---
QUESTIONS?

Have questions about these programs or are you unsure whether this camp is right for your child? Feel free to email us or call our office at (416) 619-1224 and we would be happy to speak.


TRUE NORTH SPORTS CAMPS
True North Sports Camps offers year-round sports programming for boys and girls ages 4 to 14 years old in Toronto. We have developed a variety of different sports camps as well as after-school and weekend programs, with a significant focus on baseball. Our team is extremely excited about bringing the True North experience to North York Baseball Association this summer!
To learn more about True North, or what other programming we offer, visit our website at http://www.truenorthcamps.com.